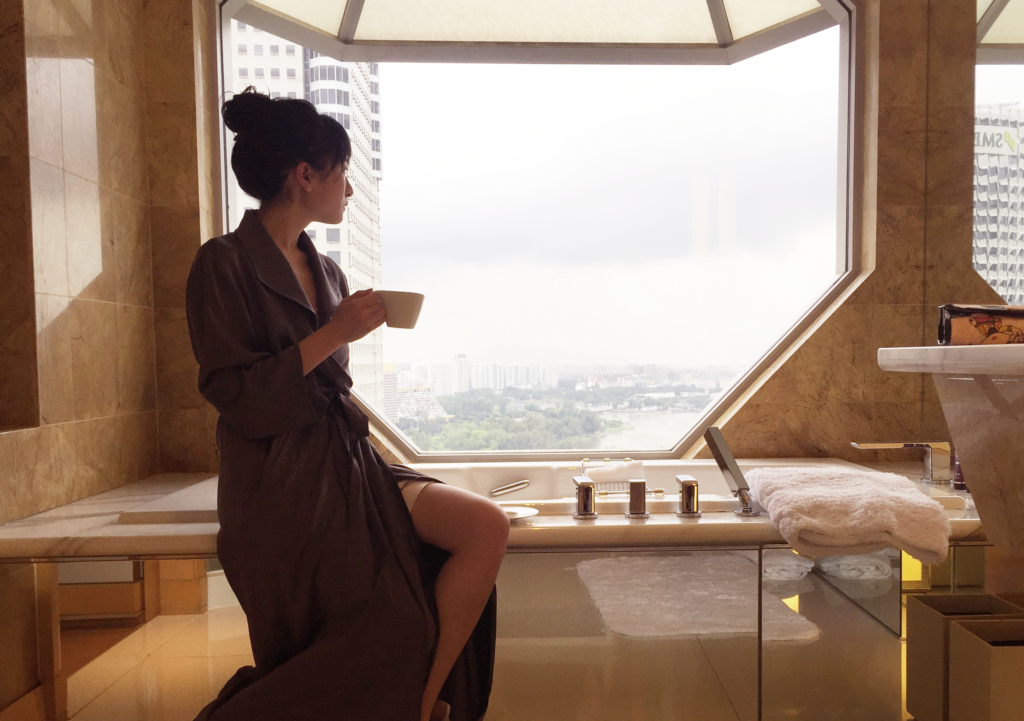 It's funny how there's often a gaping chasm slight disconnect between the aspirational selves we craft in our minds, and who we are in reality. I spend a great deal of mental energy convincing myself that I am a high-minded idealist whose ideal day would be spent making beautiful music and philosophizing about art and society, but if we're being honest here, I really just live for food.
Which is why I happily hopped on a 17-hour flight to Singapore back in March, with the sole intention of spending my time sleeping and eating.*
*Before you scoff at my lack of culture and refinement, I did visit the National Gallery, which I loved.
To assuage any guilt I had over not practicing with some 57349453 concerts on the horizon, I brought my music with me, as is standard practice when I travel anywhere, and studied it in the hotel room…
…which often was broken up by long breaks in which I added to an ever-growing list of places to get food:
Sadly I was not able to get to the majority of the restaurants and food stalls on my list, but here stands my recommended list of what to eat.
---
Wah Kee Big Prawn Noodle (8 Raffles Avenue) was one of the first places I stumbled into. Their iPad ordering system (with pictures!) is super handy and the food, of course, is 👌🏻.
The prawn noodles were enough of a meal, but I am greedy and am physically incapable of resisting fresh oysters. And pineapple juice. Shut up, I have a lot of food-related weaknesses.
Quick note: after you're finished with your meal, pay at the counter in front of the door. Don't be like me and sit around in confusion doing nothing at your table.
---
Makansutra Gluttons Bay (8 Raffles Avenue, directions here) is a glorious gathering of food stalls, also on Raffles Ave, with cute hipster lights and plenty of seats. I don't know if you're supposed to do this, but I ran around placing orders at three different stalls. The vendors seemed cool with this, and even helped me fit all my food on one tray.
I wish I could have sampled more offerings, but it was just me eating and there's only so much I can eat. I noticed over the course of several days that eating is very much a social thing in Singapore, and I seemed to get a lot of looks for eating by myself, which hasn't really happened to me in any of the other cities I've eaten through.
This is relevant because after I successfully carried my food to a table without dropping any of it (a serious concern of one of the vendors), I noticed a couple next to me occasionally glancing my way and murmuring in Chinese. I caught a couple of phrases: "…she's all by herself" and then, a few minutes later: "…must be really hungry."
I was really hungry, thank you very much.
I felt somewhat vindicated when I spotted a single guy a couple tables over also all by himself with just as much food in front of him as I had, who was taking phone photos of said food just like I was. "Aha, I am not weird!" I thought to myself.
A few minutes later, his friend sat down to join him and they proceeded to eat together.
The place is called "Gluttons Bay," guys. I am not weird.
In any case, the platter of skewers from Alhambra Padang Satay was phenomenal—I highly recommend it, and have to admit it's designed to be shared. Bring a friend when you go; you'll get to order more food, and you'll escape the locals' judgment.
---
Hainanese Delicacy/海南美味佳肴 (14 Scotts Road, 5th floor of the Far East Plaza mall) is one of those hole-in-the-wall places with criminally cheap and delicious food. I couldn't let myself leave Singapore without trying Hainanese chicken rice, but didn't want to go somewhere overpriced and touristy.
I was buoyed to see a line of locals out the door here, and was quickly seated at a communal table between strangers. Fine with me. If you've eaten at one of those no-fuss alley restaurants elsewhere in Asia, this is just like that.
I didn't see a prominent menu, so I just asked for chicken rice, and was promptly hit with a barrage of options: steamed or roasted, did I want a vegetable, what type, etc. I answered more or less at random, but was quickly served several plates of utter deliciousness. (That rice!)
By the way, everything in the photo above cost under $10 total. It helps if you speak Mandarin, but is not necessary. Be willing and ready to scarf your food down while seated next to or across from strangers.
Bonus: Sunfirst Fresh Fruits (14 Scotts Road, 4th floor of the Far East Plaza mall) for fresh juice. I got a cup of freshly blended papaya milk—just like grandma used to make.
---
No Signboard Seafood (414 Geylang Road) is a super-must. Be warned: this is a famous joint so 1) if you go during typical meal times there'll be a wait, and 2) everyone in the world will tell you the story of how the place got its name. (The story is that it started as a stall with no name, so its customers called it "No Signboard." That's it, that's the story.)
Our cab driver was very chatty, and warned us that the Geylang area of Singapore was not the nicest—as he drove down one street, he pointed out his window and said, "That's where all the street walkers are."
Because I am terrible at discerning human speech and I had food on the mind, I heard him say "street hawkers," as in food vendors. I opened my mouth to ask him which ones he'd recommend, but luckily he kept talking and I realized in time that he was talking about escorts and not delicious food.
Anyway. Go to Geylang for the seafood, not the prostitutes, kthxbai.
Recommended: the white pepper crab (their signature dish), fried prawns (I ordered the cereal prawns, which were delicious, but imagined they'd be equally delicious without the cereal), 空心菜/kang kong, and fried 馒头/mantou. This was enough for two people to comfortably eat with a bowl of rice each.
Note: When you're seated, a server will place a bowl of peanuts on the table and ask if you want them. This is a trap. They charge extra for the peanuts, and in any case you are not here to eat peanuts. You are here to eat white pepper crab. Don't be a fool.
(They also offer bibs for an extra charge. If you are a messy eater, swallow your pride and say yes.)
---
If you have more recommendations for places to eat in Singapore, please share! I'm going to attempt to do more of these eating guides from now on because I take eating very, very seriously.